Chips, stains, cracks, and other dental imperfections can detract from an otherwise healthy smile and can make you feel self-conscious.
Parkway Dental in Albuquerque, NM, provides custom-made porcelain veneers to conceal imperfections and help you achieve your ideal smile.
Tell me more...
Dental Veneers Can Create Beautiful, Confident Smiles
Crafted from Advanced Materials
At Parkway Dental, we use medical-grade ceramic to craft each set of custom veneers. This material mimics the qualities of tooth enamel for natural-looking results.
A Versatile Treatment Option
Dr. Michael Haight can use veneers to address a wide range of cosmetic imperfections, including chips, cracks, gaps, misalignment, and stubborn stains.
Quality and Strength You Can Feel
Despite being incredibly thin, dental veneers are very strong. With proper care and regular check-ups, they can last for 10 years or more.
Let's take a look at the veneers process...
Feeling embarrassed that you want to change your smile?
So what can veneers treat?
Porcelain Veneers Can Address a Range of Cosmetic Concerns
Porcelain veneers are a cosmetic solution for various dental issues, including:
Discolored teeth (from tetracycline or other drugs, or root canal treatment)
Chipped or broken teeth
Teeth with gaps
Crooked teeth
Gummy smiles
Wondering whether you qualify for treatment?
There Are Several Candidacy Requirements for Dental Veneers
Healthy Enamel
In most cases, Dr. Haight will need to remove a small amount of enamel before placing veneers. If you have very thin or worn enamel, you may not qualify for this cosmetic dentistry treatment.
Grinding or Clenching
Bruxism, a condition which involves clenching or grinding teeth, can damage dental porcelain. Depending on the severity of your condition, we may be able to provide an oral appliance to protect your veneers.
Minor Misalignment
If you want veneers to hide crooked teeth, it is important to keep in mind that these ultra-thin ceramic shells can only address small gaps or minor misalignments. More complex concerns may require orthodontics.
Realistic Expectations
Conventional veneers require permanent changes to the structure of your teeth. If you are not ready to make a permanent change in your smile, you may consider dental bonding or another option.
Will it be obvious that I have veneers?
Modern Materials & Techniques Achieve Incredibly Realistic Results
We understand you might be concerned about your appearance after treatment. If they are not applied properly, veneers can appear bulky or unnatural. However, Drs. Haight and Martinez use refined techniques to achieve the most natural-looking results. Modern materials have also become much more realistic, imitating the qualities of your teeth to blend seamlessly with the rest of your smile.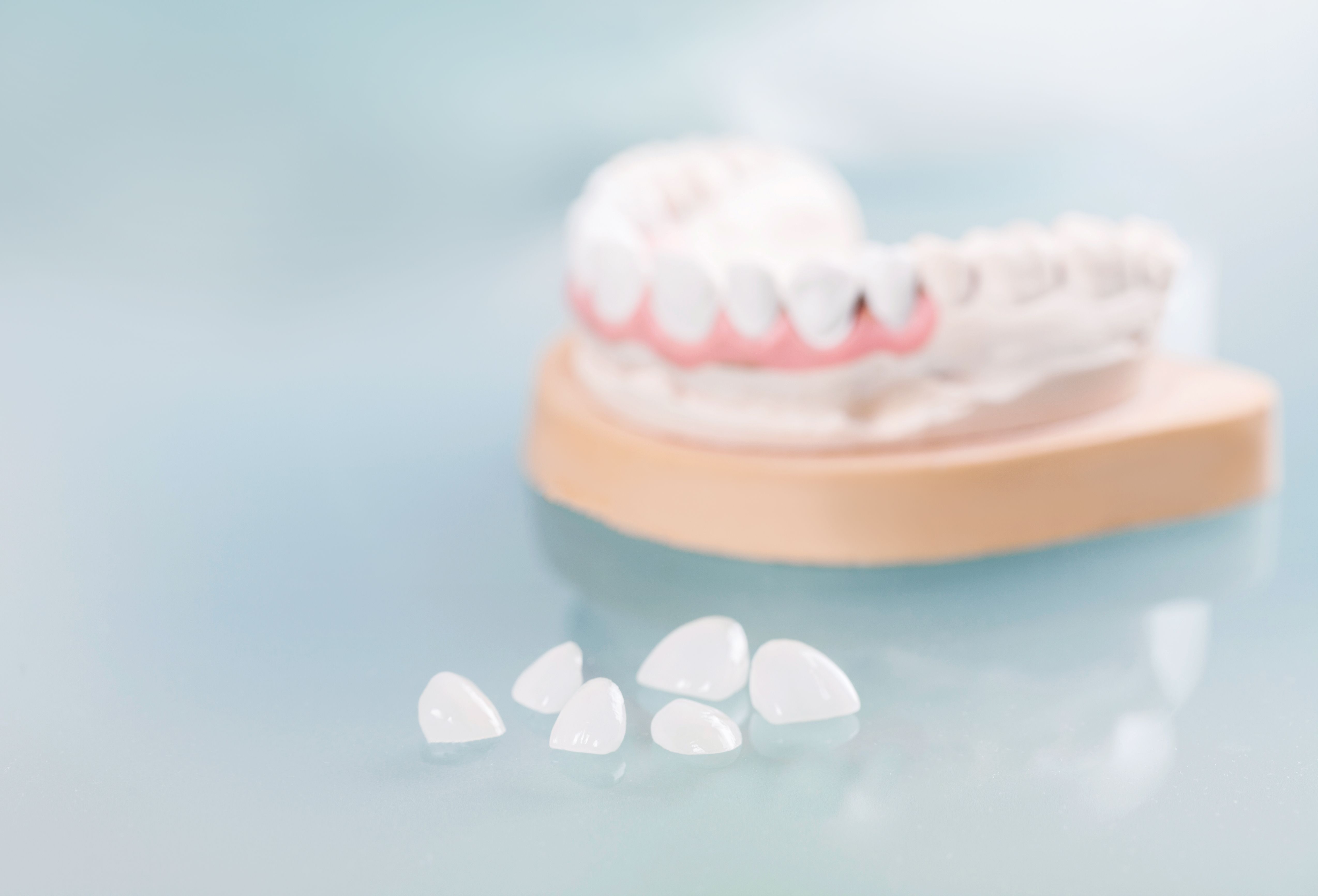 What does the treatment process entail?
Placing Your Porcelain Veneers
After your initial consultation, it will take two appointments to create and place your veneers.
Your First Appointment
The doctor will prepare your treated teeth by removing about a ½ millimeter of enamel from the surface.
Impressions will be taken and sent to the lab where your veneers will be fabricated.
Your Second Appointment
The fabrication process typically takes about one to two weeks. You will then return to our office to have your finalized veneers placed.
Any necessary adjustments for the size and fit are made.
Your teeth will be cleaned and polished.
Each treated tooth is etched to roughen its surface for better adhesion.
Dental cement is applied to the tooth to secure your veneer in place.
A special light is then used to rapidly cure the cement.
How Much Do Veneers Cost?
There are several factors which can affect porcelain veneers cost. At Parkway Dental, we offer custom-made veneers from high-quality dental porcelain starting at $1,491 per tooth. After meeting with you to discuss your concerns and goals, Dr. Michael Haight can design a set of veneers which complement and enhance the natural beauty of your smile.
Factors that Impact the Cost of Veneers
There are several aspects to keep in mind when considering the price of veneers. Every smile is different, which means that every treatment plan will be different. The final cost of your porcelain veneers will depend on the complexity of your case and the type of enhancements you want to achieve.
Number of Veneers
At our office, a single porcelain veneer starts at $1,491. The more veneers you need to achieve your desired results, the more expensive your treatment will be. However, in some cases, enhancing a single tooth can be more complicated and less effective than placing multiple veneers. You can discuss your treatment options with Dr. Haight to determine the optimal solution for you.
Complementary Treatments
There are several cosmetic procedures which can complement your porcelain veneers to achieve more dramatic results. Teeth whitening and laser gum contouring are two treatments commonly combined with veneers. We can also include porcelain veneers as part of a comprehensive smile makeover treatment plan. While this method typically costs more than a stand-alone treatment, the result is a beautifully cohesive smile.
Sedation
While Dr. Haight generally prepare teeth for veneers with only a local anesthetic, some patients prefer to receive sedation during the process. We offer various forms of sedation dentistry to ensure your comfort. However, sedation will add to your final treatment cost.
Invest in the Beauty of Your Smile
When deciding whether to proceed with porcelain veneers, keep in mind the many benefits offered by this treatment. For many patients, enhancing their smile with veneers offers them improved self-confidence and an overall increased sense of well-being. In addition, our dental porcelain is designed to last. If you properly care for your veneers, they can last 10 years or more.
We accept flexible financing plans from Compassionate Financing to cover out-of-pocket expenses.
Veneers are also a fast and conservative method for enhancing your smile. Orthodontic treatments to straighten your smile can take months, or even years. In contrast, a set of porcelain veneers from Parkway Dental can provide a brighter, straighter, more beautiful smile in just two simple visits.
Patient-Focused Care
The team at Parkway Dental is proud to provide an exceptional dental experience through:
Comfortable, personalized treatment
Patient education
High-quality materials and the latest technology
World-class care
To schedule your consultation at our Albuquerque office, contact us online or call us at (505) 298-7479.