Imagine you are on a date, delivering a work presentation, or taking a photo. Are you covering your smile to hide imperfections?
If you are unhappy with the way your smile looks, a smile makeover can conceal stains, misshapen teeth, and other cosmetic concerns.
Here's how the Parkway Dental team in Albuquerque, NM, can help you feel more confident in your personal and professional life...
What Is a Smile Makeover?
A smile makeover is a custom combination of cosmetic dentistry procedures aimed at concealing or correcting a variety of cosmetic flaws. This treatment is the perfect solution for patients who want to address multiple imperfections rather than a single flaw. In many cases, our dentist can perform more than one procedure in a single appointment, reducing the overall number of office visits needed to achieve the desired results.
Why Choose Parkway Dental for Your Smile Makeover?
Recognized for Cosmetic Dentistry
Dr. Haight is an accomplished cosmetic dentist. He is particularly skilled at dental bonding, which requires a careful hand and incredible attention to detail in order to produce natural-looking results.
Smile Makeover Experience
While other dentists perform a few smile makeovers each year, we perform many. Smile makeovers constitute about 40 percent of the dental work that we perform at our Albuquerque, NM, practice.
Impressive Technology
Our practice is equipped with several advanced tools including a 3-D cone beam scanner for accurate diagnosis, dental lasers for comfortable gum treatments, and CEREC® for the faster fabrication of crowns.
Comprehensive Services
As comprehensive dentists, Dr. Haight and his team can perform all dental procedures at their office, so you won't have to worry about hopping back and forth between dentists to complete your smile transformation.
What Kind of Results Can You Expect?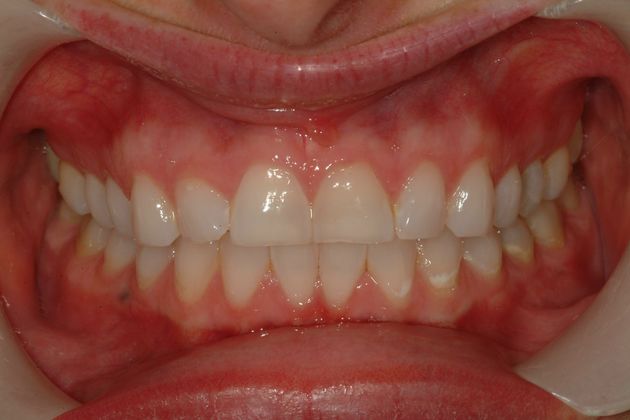 From your first visit to your final smile makeover appointment, we will work hard to provide an exceptional experience. To us, you are a person–not just another patient. This patient-centered philosophy and 5-star service have earned us over 1,000 5-star reviews and patient testimonials like these:
Everyone at Parkway Dental is so warm and welcoming. The staff is knowledgeable and professional and they provide the highest level of care!

View On Google
Dr. Haight and the team at Parkway Dental are wonderful! Always professional, prompt, and kind, and they use the most modern dentistry technologies and safety protocols. Highly recommend.

View On Google
Straighten Your Teeth with SureSmile
Are You a Good Candidate for a Smile Makeover?
In general, the best candidates are patients who want to address two or more cosmetic flaws and are in good oral health. If you are suffering from tooth decay or gum disease, our dentists must address those conditions prior to moving forward with cosmetic dentistry treatments. Some of the imperfections this comprehensive treatment plan can address include:
Extrinsic (surface) and intrinsic (internal) dental stains
Minor damage, such as a chipped tooth
Misshapen or eroded teeth
Gapped teeth
Slight overlapping or crooked teeth
A Beautiful Smile Is a Healthy Smile
Dental Implants Offer Aesthetic and Natural-Looking Results
While Dr. Haight is recognized for his cosmetic dentistry work, he also excels at restorative dentistry. To replace missing teeth, Dr. Haight can place and restore dental implants. If you need a dental restoration such as a dental crown, bridge, or denture as part of your smile rehabilitation, Dr. Haight can provide your dental care in-office, too. Dr. Haight is a member of the International Congress of Oral Implantologists who uses the latest technology when planning your surgery, making him an excellent choice for patients who need dental implants.
Dental Crowns Protect Broken Teeth
What to Expect during Your Treatment
Smile makeovers are highly customized treatment plans. Therefore, one patient's plan may consist of just two procedures, while another patient's may consist of three or more dental procedures over the course of several appointments.
How Much Does a Smile Makeover Cost?
Because every smile makeover is unique to the patient's needs, we provide a quote during your first consultation at our Albuquerque, NM, dental office. The cost of your treatment will depend on your individual aesthetic concerns, the procedures included in your treatment, and the condition of your smile.
It is important to note that insurance rarely covers the cost of cosmetic treatments. To make your dream smile more affordable, our cosmetic dentist offers cost-effective financing options through third-party lenders including Compassionate Finance.