Achieve Optimal Oral Health with a Full Mouth Reconstruction
Do you have broken, decayed, or missing teeth? Are you embarrassed about your smile? Do you cover your mouth when you laugh? If so, a full mouth reconstruction at our Albuquerque, NM, dental practice may be the comprehensive solution for you.
This treatment combines two or more restorative procedures into one inclusive plan and can address multiple oral health issues at once, including gum disease, missing teeth, or cavities. If you are concerned about cost, our Parkway Dental team offers Compassionate Finance payment plans so that you can afford a full mouth reconstruction.
Who Qualifies for Full Mouth Reconstruction?
Anyone suffering from multiple ongoing dental issues can undergo full mouth reconstruction. This treatment plan allows your doctor to target a wide range of oral health problems, including:
Extensive decay
Gum disease
Broken or fractured teeth
Missing teeth
Misaligned teeth
Malocclusion
Infected teeth
If you are suffering from any of the conditions listed above, you are most likely eligible for full mouth reconstruction. During an initial consultation at our practice, Dr. Michael Haight will determine your candidacy for this type of treatment.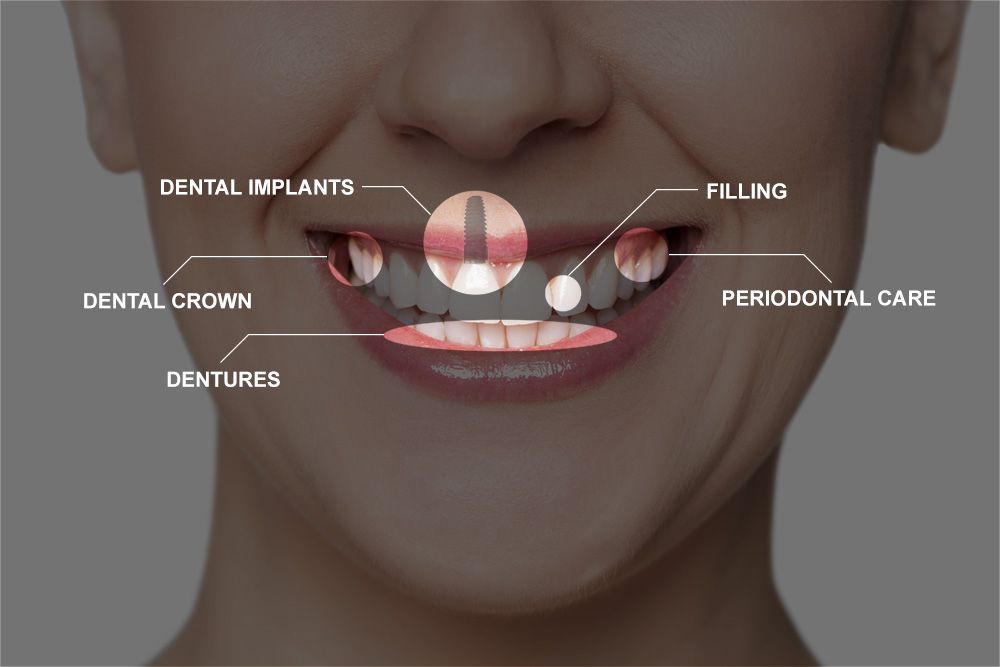 What Is Included in Full Mouth Reconstruction?
A full mouth reconstruction at our practice can include a wide range of restorative treatments. Because each patient has his or her own unique set of needs, treatment is designed accordingly. Some of the most commonly combined procedures include:
Prosthodontics: Crowns, bridges, dentures, and other custom restorations can be used to address decay, reinforce weakened teeth, or replace missing teeth.
Dental implants: Widely considered the most reliable teeth replacement solution, dental implants are small titanium posts embedded into the jawbone. Replacing the roots of missing teeth, implants help preserve existing bone density and prevent bone atrophy.
Orthodontic treatment: Crooked, overlapped, rotated, or gapped teeth can be corrected with orthodontic treatment, such as the Invisalign® system, a popular alternative to braces.
Root canal therapy: Patients with infected teeth require root canal therapy. During this treatment, the tissues inside the tooth are removed and replaced with a high-quality dental material.
Fillings: Small cavities can be addressed with dental fillings. At our practice, we offer tooth-colored restorations that blend in with your smile for a natural appearance.
Oral surgery: In some instances, oral surgery may be necessary to achieve your oral health goals. This may include tooth extractions, bone grafts, or sinus lifts, depending on your specific needs.
While one patient may only need two or three procedures to achieve their goals, others may require more. Our doctors can discuss your options with you during a visit to our practice.
Benefits of Full Mouth Reconstruction
When you have decayed, fractured, missing, or otherwise damaged teeth, it can have a serious negative impact on your quality of life. A full mouth reconstruction can restore the health, function, and aesthetics of your smile, offering a lifetime of benefits.
Because each patient has his or her own unique set of needs, treatment is designed accordingly.
In addition, full mouth reconstruction allows your doctor to combine your procedures into one comprehensive plan. As a result, your treatment is more accurate, conservative, and cost-effective compared to piecemeal procedures.
Make Sure Your Smile is as Strong as Possible
Full mouth reconstruction can help you restore your smile's appearance and improve your oral health. To learn more about this comprehensive treatment, schedule a consultation at Parkway Dental today. Give us a call at (505) 298-7479 or contact us online anytime.